News

Axess Technologies is pleased to announce a collaboration with Reconnaissance International and the release of their new report entitled 'Tax Stamps & Traceability - A Market and Technical Update' The technical sections of this report were researched and written by Axess Technologies.
Click here for more information and to purchase a copy.

It is our business to understand technical innovations and how these may be successfully utilised or commercialised. We support our clients in building and implementing successful and comprehensive market strategies. We also provide specialist technical and project management services.

Our clients are based in Europe, North America and Asia and we work with Government Agencies, brand owners, issuing authorities, Associations and suppliers. Our brand protection and security expertise allows us to support clients in the fight against criminal activity, such as product counterfeiting, tampering, unauthorised trade and theft.

Our work with both brand owners and technology innovators uniquely positions us to address the needs of both sides of the industry. Axess Technologies Ltd is split into five distinct business areas: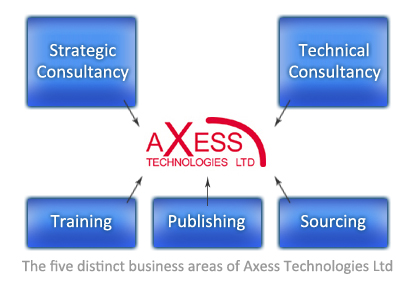 To meet our customers' requirements we offer flexibility in scheduling, pricing and project design. We run long term and short term projects with set deliverables, as well as retainer contracts and ad hoc work which is charged by the hour.
Axess Technologies has built its business on 3 core values: -


Axess Technologies Ltd is an independent company, with no affiliation to any product suppliers. All clients are therefore assured of professional and impartial advice.


Axess Technologies Ltd understands the need for strict confidentiality and security. For this reason mutual confidentiality is adhered to throughout all our projects.


We offer a wide range of expertise to our clients and therefore they often phone us first if they have any questions on issues regarding new product launches or existing product protection.